Cantilever Racking is made up from vertical single uprights with horizontal cantilevered arms to carry long length products and varied loads in warehouses and yards across a wide range of sectors. The uprights are designed to be self-supporting and manufactured from steel sections.
This cost-effective racking system improves ease of accessibility to pick products which therefore increases overall operating efficiency. The open-ended structure offers uninterrupted storage providing 100% accessibility and maximising lateral utilisation of space when storing items of varying sizes. Versatile adjustable arms mean that the system can be designed to suit any size and make the most of the space available.
Racking makes it easier to display and store long and flat items such as Pipes, Timber, Steel Tubes, Panel Products and PVCu Profiles. Cantilever Racking enables you to use your warehouse space more efficiently. Space is not wasted and horizontally stored goods can be stacked above each other while still allowing ease-of-access to individual products stored.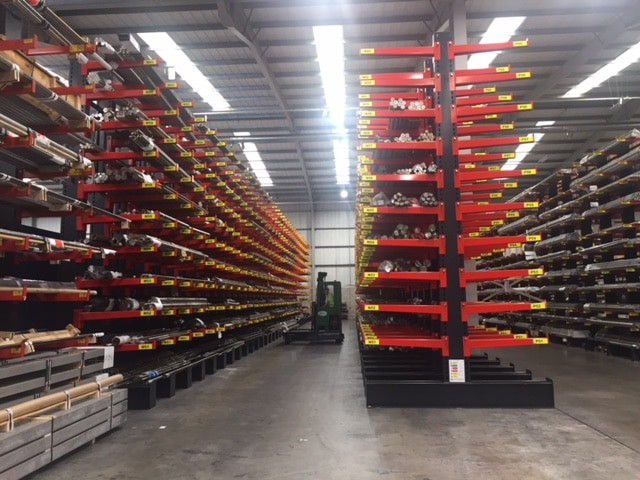 How Does Cantilever Racking work?
It consists of the following components:
Columns – vertical upright columns to which arms are affixed
Arms – arms are attached to the columns. Arms can be attached at variable heights
Brace Frames – located at the back of the rack and increases the load capacity for the frames
Integral Base – the integral base supports the Racking
Cantilever Racking has a central base which supports a set of Arms. The Arms can be adapted to accommodate specific load-bearing requirements. Highly versatile arms mean that the system can be designed to suit any pack size to maximise space utilisation. Bespoke heavy-duty steel racking provides maximum storage capacity on a single central column.
Systems are available in both double-sided and single-sided configurations. Single-sided racks can fit flush against the wall. Double-sided configuration allows the racking to be used from either side, and can be used throughout the warehouse, creating storage space on either side of the central column.
Rack arm lengths are customised to suit the load types and product to be stored. Cantilever Arms are adjustable allowing the flexibility to store different product types.
The racking is easily configurable to adjust to different heights and types of goods, so can save space within warehouses and yards.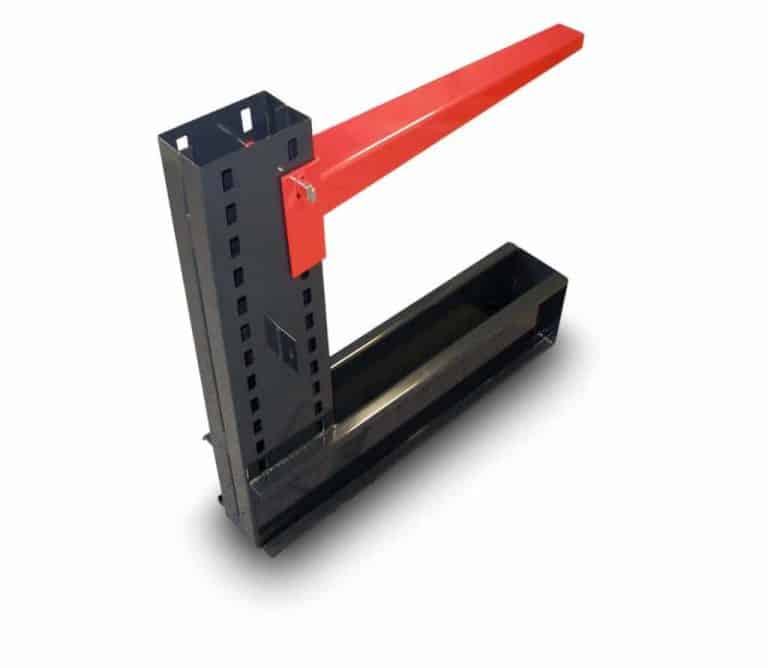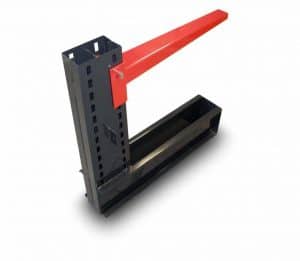 What To Consider When Selecting Racking?
What is the weight of the product to store?
How tall, how wide and how long is the product?
What is the area size of the space you want to install the racking?
Types of Cantilever Racking?
The most commonly used Cantilever Racking system. Adaptable for use with Conventional Forklift Trucks, Side Loading Trucks or Multi-Directional Reach Trucks.
Consists of rows of racking adjacent to each other separated by an aisle. This enables the handling equipment to travel the length of an aisle without any guidance system.
Includes the same components as Conventional and Free Path. The runs are positioned closer together to eliminate wasted space of a wide aisle. Long load products can be stored to a far greater height to ensure that cubic space is maximised.
What Products Can Be Stored on Cantilever Racking?
Cantilever Racking can store long product loads across a wide and diverse set of market sectors. Types of products that can be stored:
Tubing
Timber Lengths
Steel Lengths
Worktops
Panel Products
PVCu Profiles
Why Choose Cantilever Racking?
Cantilever Racking Systems can improve the efficiency of a warehouse or yard, by reducing costs and increasing storage capacity. The type of racking you need will depend on the product that you need to store. It provides a flexible racking system for large, long or bulky items.
The flexible and responsive design can meet the requirements of any customer. It offers maximum versatility to adapt to any warehouse type and products. Cantilever Racking is designed to meet the requirements of the items to be stored.
Cantilever Racking makes efficient use of warehouse space and provides visible and well-organised storage. It allows for easier item storage and handling.  
The adjustable elements mean that it can adapt to future needs. It is easily installed or can be repositioned if required making it a versatile option.
Cantilever Racking can also be referred to as Christmas Tree Racking or Tree Racking due to the shape of the structure with the vertical bar racks being similar to a tree. Other phrases used include Horizontal Bar Racking and Bar Racking.
Can Cantilever Racking be used externally?
Yes, it can be used both internally and externally. For external storage requirements, the Racking can be galvanised. It is perfect for Timber Merchants, Builders' Merchants and storage within yards. Canopies can also be added to protect items from the weather.
Cantilever Racking offers a cost-effective handling and storage solution for long length products and materials. The open-ended system allows the storage of items of varying lengths. It is often used within warehouses and yards to increase efficiency and maximise storage space, within a wide range of sectors including Builders Merchants, Distributions and Logistics, Timber Merchants and Panel Products.