Cantilever Racking Health Checks You Should Carry Out
In these tough and challenging economic times it is understandable that many companies have had to delay the purchase of any new storage equipment for their warehouse or yard. What is more concerning, however, is the fact that in many cases this also applies to the ongoing maintenance of existing racks.
This is without doubt entering into high risk territory, as ignoring any damage to the main structural components of racking within a yard or warehouse environment with pedestrian access by both employees and customers, exposes people to potentially very serious health and safety incidents.
As a manufacturer of storage products for the timber and builders merchant sectors for over 55 years, Stakapal has built up a lot of experience when it comes to on-site rack inspections. We employ qualified SARI'S (SEMA approved racking inspectors) and undertake inspections on a regular basis.
Health & Safety Executive
It is quite a common occurrence for Stakapal to receive calls from companies who have recently received a visit from their local environmental health officer from the local council, or a Health & Safety Executive inspector, who has highlighted the fact that the racks in their yard or warehouse are damaged and require immediate action. In addition, racking often does not have the appropriate load signage displayed which also puts them at a distinct disadvantage in the eyes of the inspector.
If the inspection reveals 'Red Risks' you will be required to offload the affected area immediately in order to repair or replace the racking.
We have therefore outlined a checklist for Cantilever Racking 'Red Risks' that any merchant should consider for the safety of their site :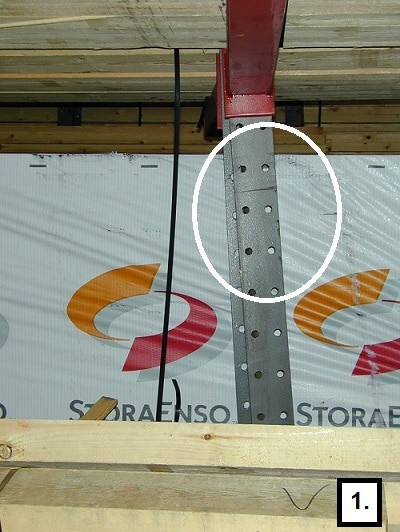 For a column bent in the direction of the run, the maximum gap between the upright and the straight edge should not exceed 5mm. If it does it becomes an orange risk – which means you need to inspect this area daily for further signs of damage. More than 10mm is red risk requiring immediate offloading.
Arms damaged in the same direction as the run often results in damage to the column as well as the arm. Stakapal considers lateral deformation in excess of 1.25 degrees when viewed from the front of the arm to consititute orange risk – again this needs inspection on a daily basis. In excess of 2.5 degrees constitutes a red risk requiring immediate offloading.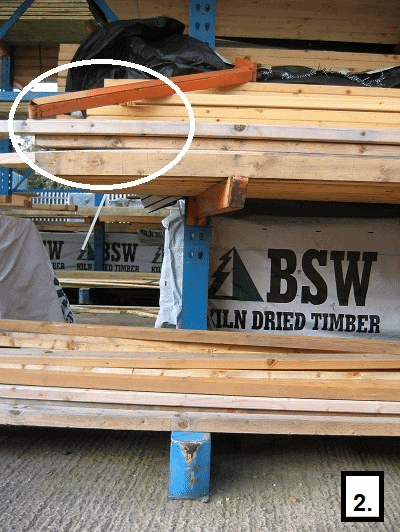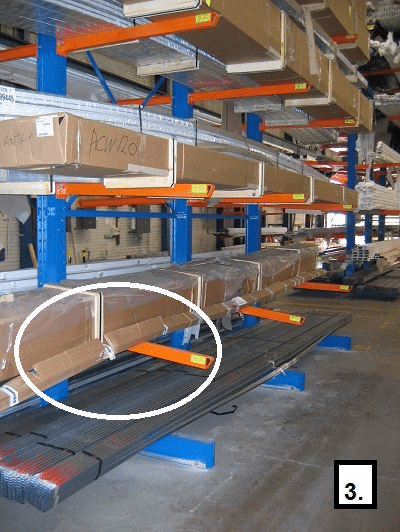 Arms are permitted to deflect up to arm length/180 mm under normal design load conditions. Residual deflection with the load removed should be no more than 10% of normal deflection under load. Figures greater than this constitute orange risk – requiring daily inspection, and twice this level red risk requiring immediate offloading. All arms deflected below horizontal are red risk.
For bracing members bent in either plane, the gap between straight edges and bracing member should not exceed 10mm. If it does it becomes orange risk – requiring regular inspection. More than 20mm is red risk requiring immediate offloading.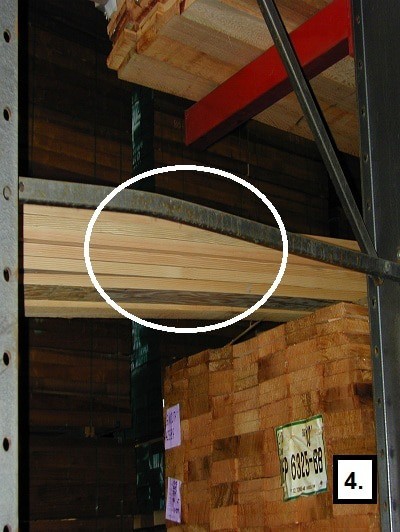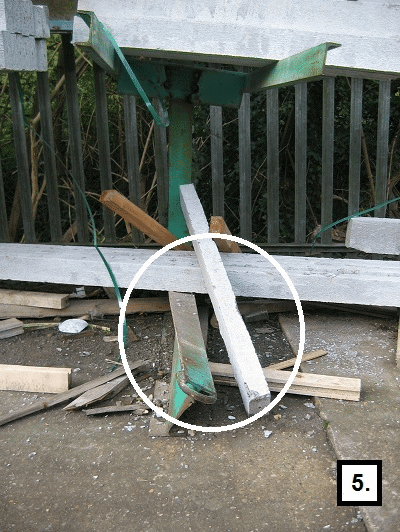 Base damage imparts excessive load into the column and the bracing members. Bases that are rotated in the direction of the run by more than 5 degrees constitute orange risk requiring regular inspection. A rotation of more than 10 degrees constitutes red risk requiring immediate offloading.