Timber Products Storage
Timber supplies within the UK are currently at an all-time low. Experts have warned that suppliers could face a shortage of timber unless the UK boosts its commercial plantation sites. The shortage of timber not only affects large companies but also has an impact on small businesses (SMEs) and independent buyers. Supply and demand means that the UK will be paying higher prices for imports, causing a dramatic increase in consumer cost. With this in mind, the correct timber storage is essential to all businesses, especially at these uncertain times and with price hikes. Timber is a resilient material; however, poor storage could cause damage resulting in wastage of the product. Timber including hardwoods such as Oak, Beech and Birch, or softwoods, panel products, MDF and plywood are best stored off ground level to ensure no warping occurs due to damp and poor airflow. There are several options available when storing timber and wood products, to achieve long-term optimal results, industrial racking is the best solution.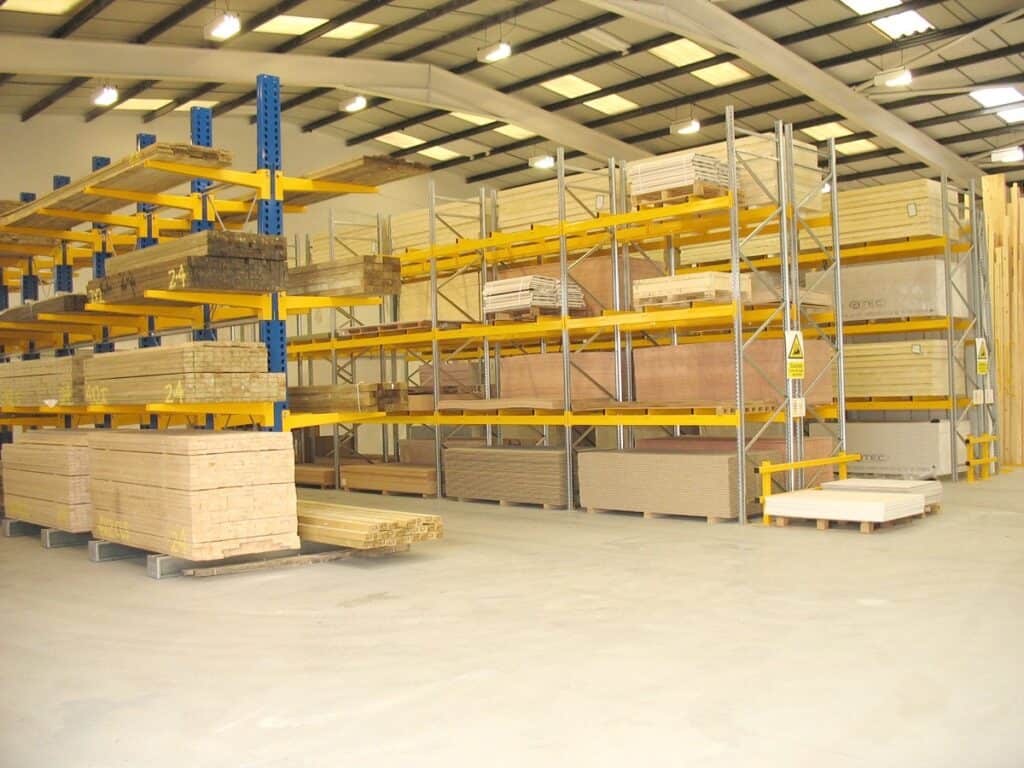 Industrial racking / Cantilever Racking
There are many industrial racking choices to consider such as cantilever racking, A-frame, and pigeon hole racks, as well as pallet racking for panel products. All of which have their benefits depending on the size, weight, type of wood, and place you wish to store. As experts in our field, we can advise the best way to store timber products.
Choosing a bespoke racking company that can work with the individual to design, manufacture and install the correct storage is a much more manageable solution than searching for multiple companies to complete each process. The installation of cantilever racking provides safe and effective storage optimising the life and quality of wood.
Stakapal has worked within the furniture and joinery industry for over 55 years, providing specialist advice and solutions to meet all storage needs. A leading UK manufacturer, supplier, and installer all under one roof making the process simple and effective for all its consumers. Stakapal is also a full manufacturing member of SEMA, (Storage Equipment Manufacturers Association) the industry body responsible for developing safe design, installation, and use of storage. We are committed to designing excellence, quality manufacturing, and accurate installation giving all customers strong, safe, and top-quality storage solutions.