For over 55 years family-run firm Stakapal has produced storage and industrial racking for warehousing and manufacturing industries across the UK. Nick Betteley, Technical Director at Stakapal explains how correct storage can benefit your operation.
Supply chain issues in recent times have helped to push UK manufacturing, storage and distribution into a new era of growth. Staying productive and profitable are key considerations for any business and your choice of storage plays an important role in achieving these goals.
While the requirements of each facility are different the correct manufacture, design and installation of your racking can maximise utilisation of your warehouse footprint, provide easy access to stored products and minimise stock damage. After all, any delays in production and delivery will prove costly!
Bespoke Racking Solutions
Today, Stakapal offer probably the most widely used storage products in the UK Panel Products industry, established through our work with leading organisations within the market. We use our expertise to design bespoke racking solutions that meet your picking requirements while also increasing storage capacity. Our in-house design and project teams provide a concept to completion service from initial site survey through to design, manufacture and finally installation.
Supporting British industries is something we take seriously, and we are currently the only manufacturer to produce Cantilever Racking and Pallet Racking as well as a full range of Warehouse Racking Systems from within the UK. Our 72,000 sq.ft production facility in Staffordshire houses a wide range of modern manufacturing equipment including roll forming lines, press braking cells, robotic welders and a fully automated powder coating system.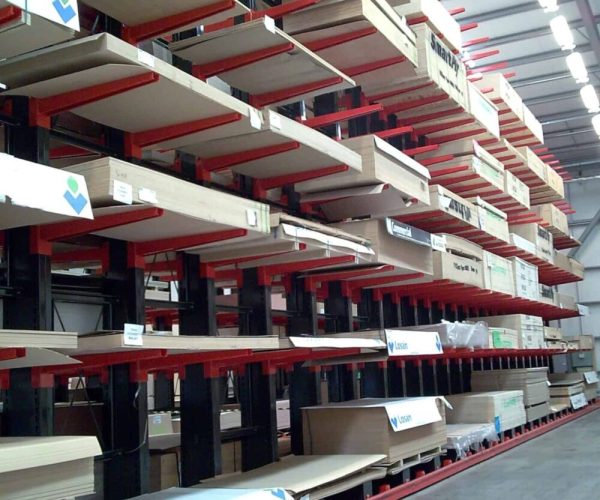 Getting the Right Industrial Storage
Panel products can measure anywhere from 2400 to 2800mm in length and from 900mm to 2070mm in depth making them difficult to pick when bulk stacked. Valuable warehouse space is wasted and costly damage to stock will often occur when products are constantly being moved around.
Our Cantilever Racking range offers 100% selectivity, and is an inherently adaptable system, which is designed using vertical, self-supporting uprights manufactured from fabricated steel for strength and safety. Single-sided racks can fit flush against the wall while a double-sided configuration allows the cantilever racking to be used to create storage space on either side of the central column. The racking uses arms instead of bays for horizontal storing and loading of stock which can be adjusted to suit any size of product and increase available capacity.
Panel products and sheet materials can be stored effectively on our Conventional, Free Path or Guided Aisle Cantilever Racking systems.
For products which need to be stored in relatively small volumes, our Stakrak SR2000 Series Pallet Racking offers a lower budget alternative that has the flexibility to be adapted to your exact requirements. Construction typically comprises of double sided and single sided runs of racking, separated by aisles which are dimensioned to suit the customers counterbalance forklift trucks or the more space efficient reach trucks.
We also manufacture a wide range of other solutions for the Timber & Joinery industry including A-Frame Racking (Vertical Storage) and Pigeon Hole Racking.
Cantilever Racking - Safety as Standard
The panel industry is incredibly safety-conscious, and we support this as a full member of SEMA (Storage Equipment Manufacturers Association). SEMA is a leading voice within the warehouse industry, promoting the safe design, manufacture, installation, and use of racking systems.
As Full Members of SEMA and to meet their high standards our products are independently tested which guarantees they have been designed, manufactured, and installed to rigorously defined standards.
Stakapal's commitment to safety continues by ensuring that our in-house installers working on your site are registered and put through SEIRS (Storage Equipment Installers Registration Scheme), a unique initiative from SEMA which aims to raise safety standards at the point of installation.
Industrial Racking systems qualify as work equipment and, under PUWER, it is your responsibility to ensure they are in good working order, maintained and inspected correctly. The HSE recommends using a SEMA Approved Racking Inspector (SARI) who is trained and continually assessed to industry standards. Stakapal's support doesn't stop once the installation is finished, we have our own in-house SARI qualified inspectors, who can undertake a comprehensive inspection and prepare a detailed report highlighting where repair work is considered necessary on an annual or bi-annual basis.
Article source: https://p-j-production.com/2022/03/30/stakapal-you-know-the-name-now-get-to-know-the-company/
March 2022